15" passive studio main monitor based on the legendary Tannoy SUPER GOLD
Legendary Tannoy Dual Concentric driver technology provides class-leading phase coherence and point-source imaging
Ultra-precise and neutral soundstage delivers Non fatiguing sound for extended listening sessions
Front mounted control panel houses a 3 band energy control to compensate for varying acoustics characteristics and Environments
Original classic cabinet design with modern components provides a genuine reproduction of the original classic monitor
Front-firing bass port design allows near wall or soffit placement, ensuring optimal low frequency performance
High density cabinet provides extreme rigidity to control low frequency performance
Extensive bracing incorporating DMT (Differential Materials Technology) to couple driver to cabinet
Heavy duty 24 carat multi-layer gold plated Tannoy customized binding posts for optimum signal transmission and integrity
Precision machined gold anodised aluminum adjustment panel metal trim complements the aesthetic of the wood cabinet
Tannoy - Around 100 years of British sound heritage and innovation
Golden Circle
Once you step into the golden circle, it's nearly impossible to escape. Why? Because you will hear your music and films like you have never heard them before. Our heritage speaker Monitor GOLD was launched all the way back in the 1980's, and since then countless high-profile recording studios have used our speakers when mixing and/or mastering some of the most iconic albums and soundtracks in history. 
Artists like Michael Jackson, Elton John, The Eagles, Billy Idol, Depeche Mode, Christina Aguilera, and soundtracks for films like Top Gun, Breakfast Club and Catch Me if You Can had Tannoy speakers as the final link in the signal chain in the studio. 
Now, you can also have that legendary sound at home!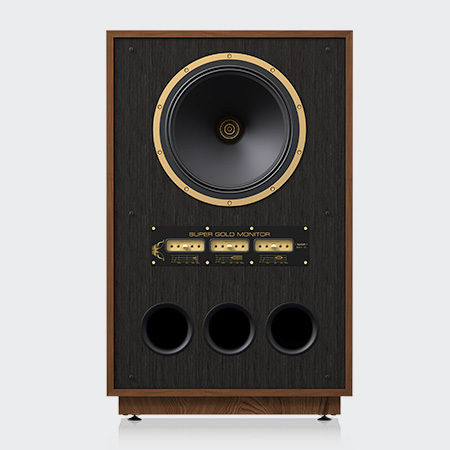 Larger Than Life
The SUPER GOLD 15 speakers sport 15" woofers that go all in on epic and larger-than-life sound. They excel at any music style that requires massive and punchy lows, while at the same time keeping the critical midrange clear and detailed and the highs silky-smooth and delicious. Modern R'n'B, Hip Hop and certain styles of Electronica and Rock immediately comes to mind. But of course they are also happy to take on any other type of music and will play it gracefully.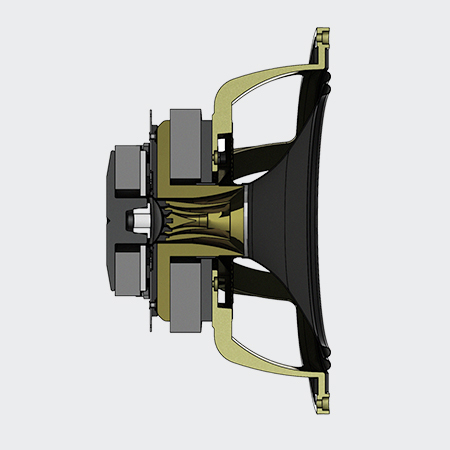 Dual Concentric Precision
We invented the dual concentric speaker design in 1947, and it has been refined and improved continuously over the decades. With SUPER GOLD you get the very latest incarnation of this pristine design that has won critical acclaim over and over for nearly 70 years!
With our Dual Concentric design, the woofer and tweeter are literally merged together, which positions them on the exact same axis, giving you best-in-class phase coherence. Since the sound is coming from the same point, it is a true point- source imaging scenario, and adding to that a spherical wave front that ensures an extremely even dispersion both vertically and horizontally, the SUPER GOLD's off-axis performance is breathtaking.
But what is the benefit when listening? You simply get a very wide and true sweetspot, which means that you don't have to sit dead-center in front of the speakers to enjoy every single, subtle detail in the music. You can move around, or when you have company, everyone can enjoy listening even if they are not directly in front of the speakers.
Finally, we constantly refine and improve our dual concentric design, and today we use modern ferrite with copper demodulation rings and high flux magnetic circuit, which perform even better than the original 1970's Alnico design.
Listening for Hours on End
SUPER GOLD passes on the sound that the artist and producer intended without artefacts. The goal was to create a truly neutral soundstage with zero sonic coloration, and as a result these speakers are very non-fatiguing, which means that you can not only get a full and rich listening experience from almost anywhere in the room, but also that you can listen for hours on end without wearing out your ears.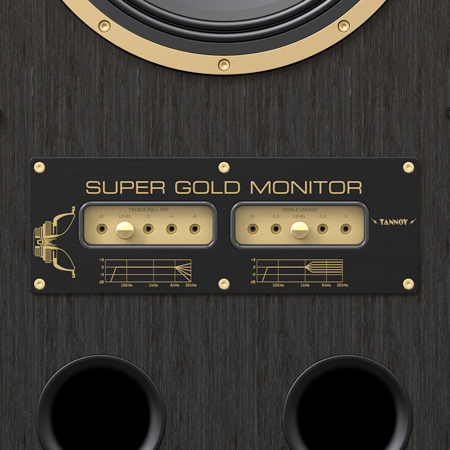 You're the Co-Producer
Sure, we have emphasized that SUPER GOLD is neutral and true to the how the artist wanted the music to sound. But some listening environments may benefit from a few minor adjustments. That is where you come in as the co-producer.
We fitted an easily-accessible, three-way energy control system on the front of the speaker that allows you to take control and compensate in case your listening environment calls for slight adjustments.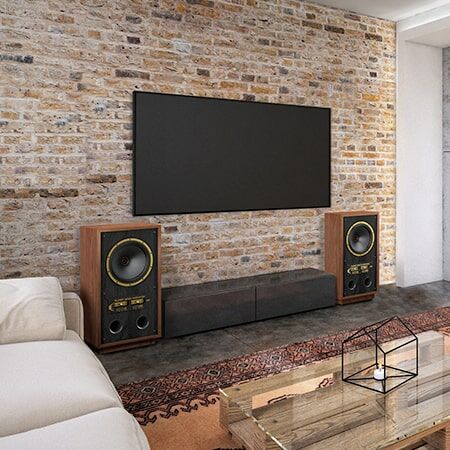 Place Them Anywhere
The front-firing bass ports reduces the problem with bass traps emerging if a speaker is placed close to a wall or in a corner. While we definitely find SUPER GOLD as pleasing to the eye as it is to the ear, we also respect that placing your floor speakers far from the wall is not for everyone.
Well, the good news is that you can place them virtually anywhere you find meaningful in your living space – and regardless of where that may be, you'll enjoy great sound.
You could even recess them in a wall, which in fact is a very common way for main speakers to be mounted in professional recording studios.
Specification
Show less
System
Frequency response
35 Hz – 30 kHz ± 6 dB
Recommended amplifier power
20-300W
Power handling (IEC)
150 W continuous, 600 W peak
Sensitivity
93 dB (1W @ 1m)
Impedance
8Ω
Components
Low frequency dual concentric
1 x 15" (380 mm) paper pulp cone with twin roll impregnated fabric surround, 52 mm (2") edge wound voice coil
High frequency dual concentric
1 x 1.3" (33 mm) aluminum/magnesium alloy dome with edge-wound voice coil
Crossover
Frequency
1.1kHz
Type
Bi-wired, hard wired passive, low loss 2nd order low pass, 1st order high pass
Adjustment
±3 dB over 1 kHz to 30 kHz shelving,
±3 dB over 1 kHz to 5 kHz shelving,
2 dB to -6 dB per octave
over 5 kHz to 30 kHz slope
User controls
treble roll off, treble energy, presence energy
Enclosure
Type
Triple distributed port
Connectors
5 x 4 mm 24ct Tannoy customized binding posts
Dimensions HWD
650.2 x 424.9 x 1033.5 mm (25.6 x 16.7 x 40.7")
Net weight
50 kg (110.2 lbs)
Construction
19 mm (3/4") Particle Board, MDF with plywood internal bracing - heavily damped
Finish
Walnut veneer and high acoustic transparency nylon grill cover
Accessory pack (included)
Bi-wire bridge connectors
Tannoy High End Loudspeaker Wood Wax
Adjustable feet