TC ELECTRONIC 在1976 年把SCF誕生, 非常受歡迎 , 45年後推出了特別版 SCF GOLD SE ,更特別的金色奢華外表, 呎吋更細了,將繼續盛傳這經典的Chorus Flanger 效果器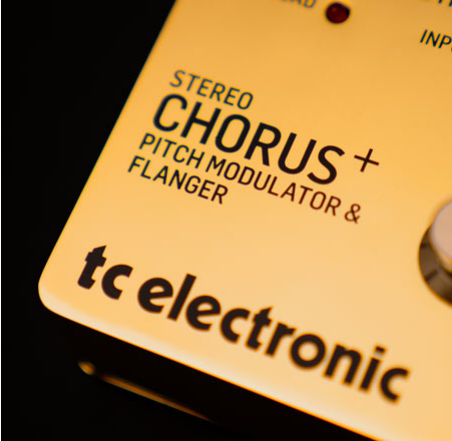 This Is Where It All Begins. This Is Where It All Begins.
The legendary Stereo Chorus Flanger was the first TC Electronic product. Ever! Our founder, who is also a musician, was annoyed with the quality of effect pedals available back in the 70's – they were just so noisy. So, being an engineer, he set out to design a pedal that would live up to his expectations and high standards. That was how the SCF was born all the way back in 1976, and the rest is history as they say. But hey! No one said the story was over . On the contrary, we're adding to that history. In fact, it has come full circle and we're really entering a new era of the SCF tales. Please meet SCF GOLD Special Edition: One for the future – and a legendary pedal to be!
This Special Edition of the revamped SCF pedal has a truly golden appearance that will – quite literally – outshine any other pedal on your board. But amazing looks is just one aspect, let's dive into how it actually sounds…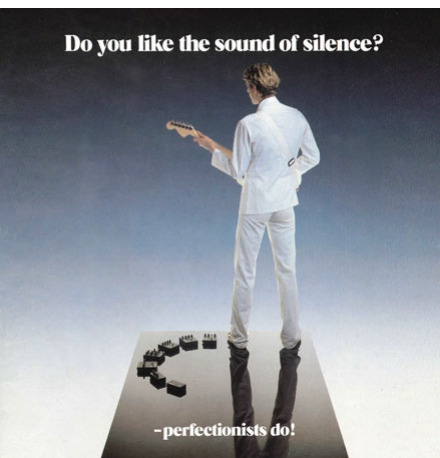 The Sound of Silence
Once the original SCF was launched and tons of guitarists had embraced it and included it in their rigs, the nickname for this marvelous modulation gem soon became "The Sound of Silence" due to its complete lack of… noise! Well, we're pleased to say that the reissued SCF GOLD SE version also remains absolutely true to its predecessor in terms of off-the-charts signal to noise ratio – unwanted noise is simply not an issue!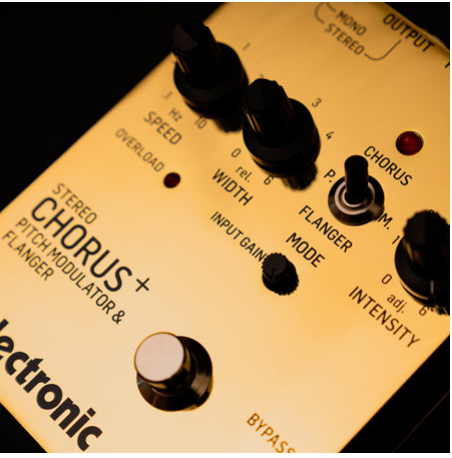 Triple Modulation Magic
Chorus. Flanger. Pitch Modulation. Three modes that deliver the magic swirls, wobbling wonders and pure shimmering awesomeness of the SCF that we know and love, staying true – and paying tribute – to the original. The very unit that has taken countless guitarists by surprise and blown away everything they thought they knew about modulation effects in a strum of a chord!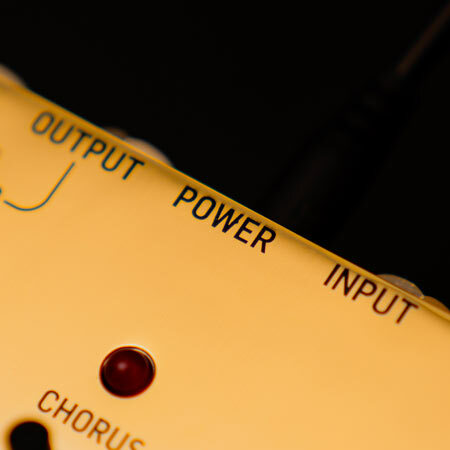 Power the Way You Need It
One aspect of the original SCF that we felt we could improve on was how you power it. The original came with an internal transformer plus a hardwired power cable, and you'd need to consider that in your pedal board design. SCF GOLD SE comes with a standard 9V DC power socket ready for easy integration on modern pedal boards.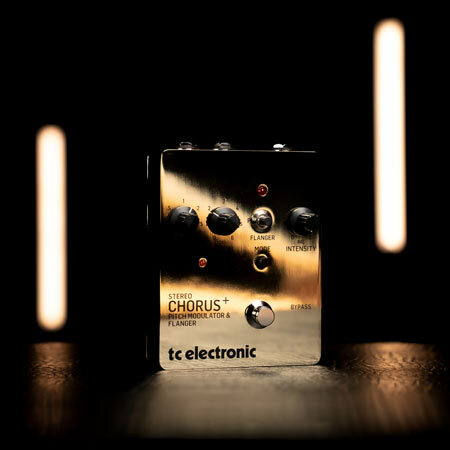 Golden Entrance
We bumped up the analog preamp, which is the first stage your signal meets, to level gold! You now get even more headroom, as well as improved low frequency response. And one of the most noticeable benefits you will experience right out of the box is a huge dynamic range that makes your tone excel regardless of whether you're softly fingerpicking or slamming a funky riff out at maximum loudness altitude!
Specification
show less
Connectors
input
1/4" TS, unbalanced
Impedance
1 MΩ
output
2 x 1/4" TS, unbalanced
Impedance
4 kΩ
power
Power input
Standard 9 VDC, center negative,
150 mA (not included)
Physical
Standard operating temperature range
5° - 45° C (41° - 113° F)
Dimensions
126 x 95 x 49 mm (5.0 x 3.7 x 1.9")
Weight
0.34 kg / 0.75 lbs