專業的NPK20 不單有鋼琴般的手感,能高度反映樂手的演奏,而內置的彩色屏幕,能讓用家輕易調整鋼琴音色共(270)多種,當中包括EQ (高中低音), 以及專業的效果如(REVERB DEALY 等),可以隨時儲存,方便演出時使用,最理想的音色.如用家要連接電話可使用內置的藍芽將無線傳送音樂功能.
NPK-20 包含專業效果器,包括 4 種混響(大廳、平板、房間、工作室)、4 種壓縮器(柔和、R&B、抒情鋼琴、標準鋼琴)、合唱和延遲。您可以自由組合不同的效果,設置自己的參數並隨時調用。
Reverb: pre-delay, size, reverb time, spread, output level
Compressor: Ratio, Attack, Release, Threshold, Boost
Chorus: HPF, LPF, Depth, Level
Delay: Time Del, Feedback, H Damp, Level

The NUX NPK-20 is our latest powerful portable digital piano. Building off the sound and feel of our bestselling NPK-10,
the NPK-20 further optimizes the accclaimed NUX WKJ-03 keyboard and makes it feel even more natural.
Fully loaded with 271 high-quality sounds in 7 groups, the NPK-20 is also equipped with an automatic accommodation function for dynamic performances,
  Professional effects based on advanced audio processing technology, and even a dynamic mic input for a perfect performance solution.
The Grand Piano Feel Within Reach
The NPK-20 uses our WKJ-03 Triple-Sensor Graded Hammer-Action Keyboard (with escapement and synthetic ivory and ebony keytops), and has further optimized its key touch curves and sound design. More professional processing has been made for its key touch in terms of downforce, rebound recognition, legato recognition, etc. The sense of escapement and the balance of the black and white keys are also more even. Moreover, the NPK-20 has added a key noise reduction design. Ultimately, it meets all kinds of playing and performance needs, and restores the real touch of a grand acoustic piano.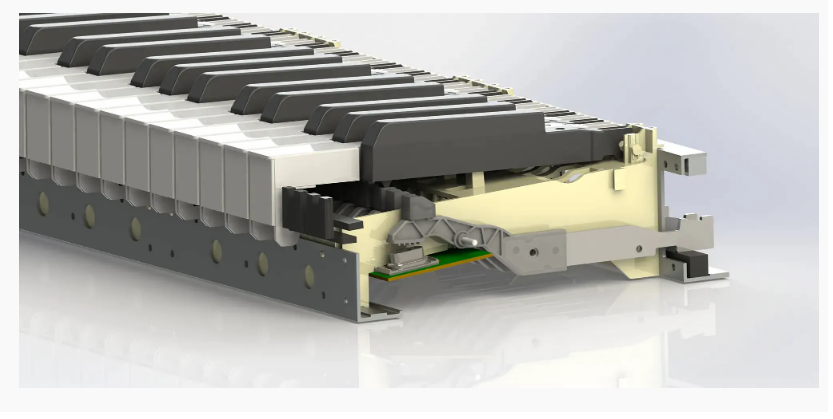 Providing an accurate and truly grand piano sound can be a tall order. We achieved this for the NPK-20 by sampling a delicate and expressive German nine-foot grand piano. We didn't stop at just one sound, as the NPK-20 includes a total of 271 high-quality sounds, divided into 7 groups on the top panel. All the sounds have been carefully processed and optimized resulting in a sound selection that is both powerful and rich. The sounds can be chosen or layered intuitively on the panel, such as the sound of piano layered with the ambient sound of orchestra.

Professional Effects and EQ
The NPK-20 includes professional effects, including 4 types of reverb (hall, plate, room, studio), 4 types of compressor (soft, R&B, lyric piano, standard piano), chorus, and delay. You can freely combine different effects , set your own parameters and recall them at any time.
Reverb: Pre-Delay, Size, Reverb Time, Diffusion, Output Level
Compressor: Ratio, Attack, Release, Threshold, Boost
Chorus: HPF, LPF, Depth, Level
Delay: Time Del, Feedback, H Damp, Level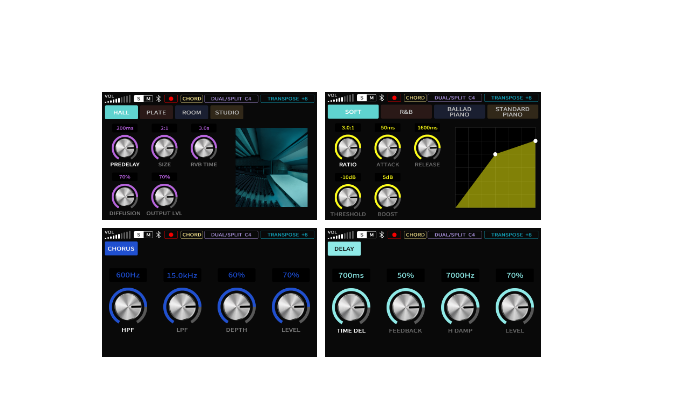 - 88-key NUX WKJ-03 Keyboard (*upgraded)
- Triple-sensor scaled hammer-action keyboard (with escapement and synthetic ebony/ivory keytops)
-Touch Sensitivity: 5 levels
- Sounds: 271 high-quality sounds (7 groups)
- Tone Brilliance: 5 levels
- Layered Sounds: Yes (mix balance adjustable)
- Split Keyboard: Yes (split point adjustable; individual octave shift and tone selection)
- Compressor: 4 types (soft, R&B, lyric piano, standard piano), 5 parameters (ratio, attack, release, threshold, boost)
- Reverb: 4 types (hall, plate, room, studio), 5 parameters (pre-delay, size, reverb time, diffusion, output level)
- Chorus: 4 parameters (HPF, LPF, depth, level)
- Delay: 4 parameters (time del, feedback, H damp, level)
Accompaniment and Microphone
- Microphone: dynamic microphone input (XLR & 6.35mm combo jack), gain control, volume, reverb
- Auto-Accompaniment: 100 styles (auto chord, single/multi fingering, sync start, A/B variations, intro/ending)
- Transpose: -6 to +5 in semitones
- Octave Shift: -1 to +1 octaves
- Metronome: 9 beats, 3 sounds, 20-280bpm
- User Presets: 7 memory banks
- Bluetooth: Bluetooth MIDI, Bluetooth Audio
Connectivity and Speakers
- USB MIDI, AUX IN, LINE OUT (L/MONO, R), 3.5mm Stereo Phones Output x 2, Damper Pedal (included), Pedal Unit (optional), Microphone Input
- Amplifiers and Speakers: 10W x 2, 3"x6" oval speaker x 2
- Display: TFT LCD 800x480dpi
- Dimensions: 1300mm x 270mm x 130mm
- Weight: 12.2kg (music stand included)