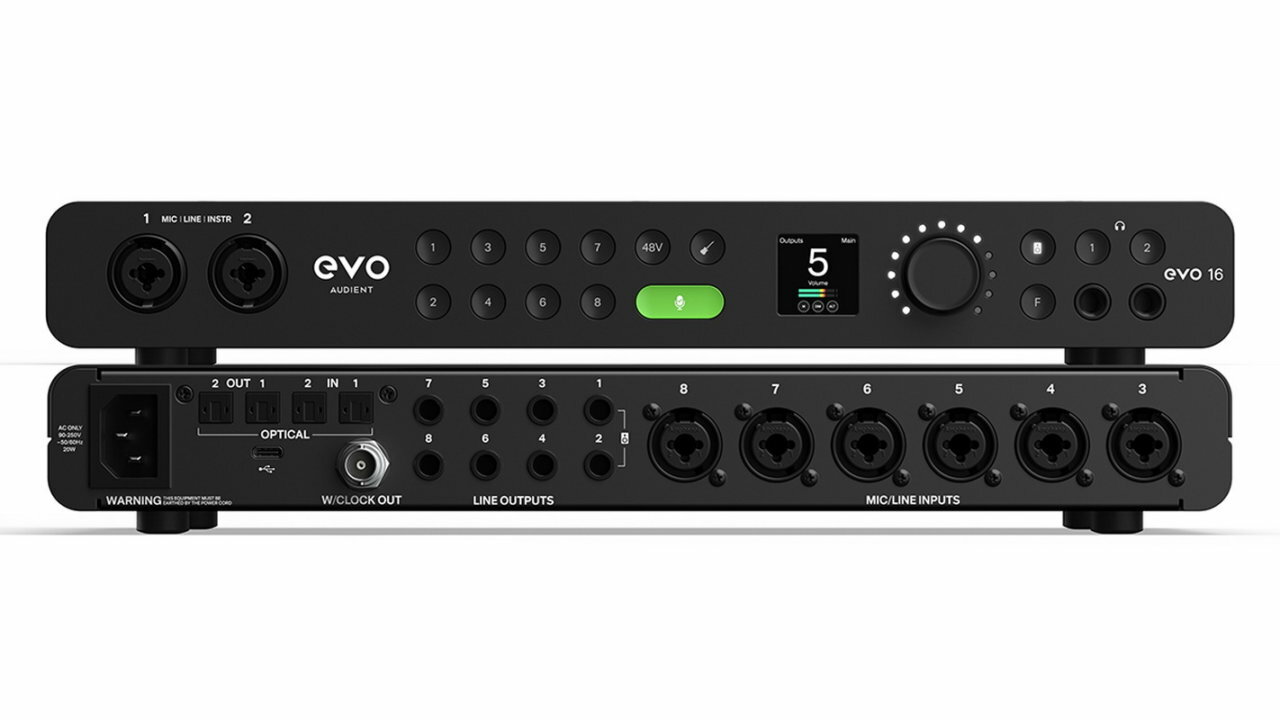 Audient's Evo 16 is a high-quality USB audio interface with next-level features and outstanding performance. This interface vaunts eight award-winning Evo preamps and top-notch 24-bit/96kHz AD/DA conversion, along with cutting-edge Smartgain technology that ensures optimal recording levels in every application. You also get enough I/O firepower to tackle mammoth-sized sessions, which includes two JFET instrument inputs, two headphone outputs, and enough digital expansion to futureproof your setup. You also get monitor control, audio loopback, and a word clock output. You'll appreciate the usability of Evo 16's Motion UI control system, which includes a 1-knob centralized control, clear metering, channel status indicators, and a high-resolution TFT-LCD screen. Evo 16 is one of the easiest ways to achieve studio-quality recordings — it's a veritable production powerhouse.



24 In/24 Out USB Audio Interface



USB 2.0 audio interface provides 24-in/24-out over a common USB-C connection

8 analog Evo mic preamps yield 58dB of gain and digital-precise control

Contains 2 JFET instrument inputs, 2 headphone outputs, and ample digital I/O

Includes monitor control, audio loopback, and a word clock output

Top-notch 24-bit/96kHz AD/DA converters supplies crystal-clear audio with 121dB of dynamic range

Smartgain automatically analyzes your input signals and adjust each channel's preamp gain

Intuitive Motion UI control system with high-resolution TFT-LCD screen

Channel status indicator displays the channel's name, levels, and functions activated

Easy-to-read, full-color metering makes keeping an eye on your levels a breeze

1-knob control and customizable F-button ensure simple, trouble-free operation

Level up your audio performance with eight sonically stunning EVO Preamps. Backed by 25 years of engineering experience, our analogue mic preamp has been designed to deliver the most accurate, clean, and true to source version of your audio, no matter what you're recording.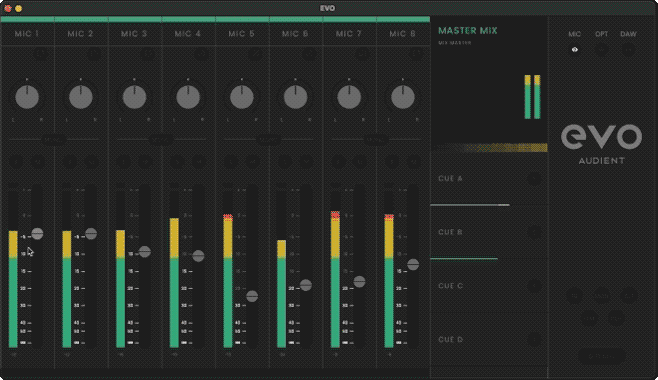 Our EVO Preamp technology not only has all the sonic advantages of an analogue mic preamp, but combines it with digitally controlled precision, giving you the ability to set your gain with pin-point accuracy, right down to the decibel.


Advanced Converter Technology
Clearer, sharper clarity
Providing a MASSIVE 121dB of dynamic range, EVO 16's high performance converter technology makes sure you hear your audio accurately, helping you make creative decisions confidently, identify issues and improve your recording and mixing game.
Microphone Preamplifier
Mic Gain Range: 58dB
Line Gain Range: 58dB (-10dB pad)
Phantom Power: 48v +/-4v @ 10mA/Channel
Mic EIN: <-127.5dBu
CMRR: >80dB @ 1kHz
Maximum Input Level: +16dBu
Input Impedance (Mic): >3kΩ Balanced
Input Impedance (Line): >10kΩ Balanced
Frequency Response: +/-0.5dB 10Hz to 40kHz
Crosstalk: <-105dBu @ 1kHz <-103 @ 10kHz
THD+N @ 0dBu (1kHz): <0.0015%
SNR: 100dB
XLR: Pin 2 (Hot), Pin 3 (Cold) & Pin 1 (Shield)
1/4" Jack: IP (Hot), RING (Cold) & SLEEVE (Shield)