X32 COMPACT
Thanks to its legendary onboard X32 mix engine, the X32 COMPACT can be your top-notch studio recording interface today, control a complex theater production tomorrow, or sit securely in your side-rack while you mix your band's club gig from your iPad. A revolution in its own right, the incredible X32 COMPACT combines the finest analog I/O and powerful digital connectivity with ample processing for 40 channels, 25 buses and up to 152 signal sources.

You can easily control every parameter of the mix directly on the X32 COMPACT using the 800 x 480 graphic UI, but the awesome flexibility of networked remote control literally opens up an amazing world of possibilities. Use our X32-EDIT PC/Mac/Linux application, X32-MIX for iPad, X32-Q for iPhone/iPod touch and X32-Q for Android to control the mix from anywhere in the room. You can even run multiple instances of these powerful apps at the same time, giving your performers the ability to mix their own personal monitors on-the-fly!

Enhanced Workflow & Multi-Channel Networking
With the introduction of our new X32 version 2.0 firmware, we have not only dramatically enhanced the workflow, but also added all-new capabilities including "Acoustic Integration" for total connectivity and control of your speaker and In-Ear Monitor (IEM) systems. Then we completely re-imagined the more than 50 onboard FX "Plug-Ins" and added classic processor examples based on "True Physical Modelling". We've also made the X32 even more flexible, with swappable expansion cards for connecting to other multi-channel audio networking via USB, ADAT, MADI and Dante protocols, in addition to the onboard ULTRANET and AES50 connectivity. Above all, the X32 puts the power of digital in your hands – without compromise.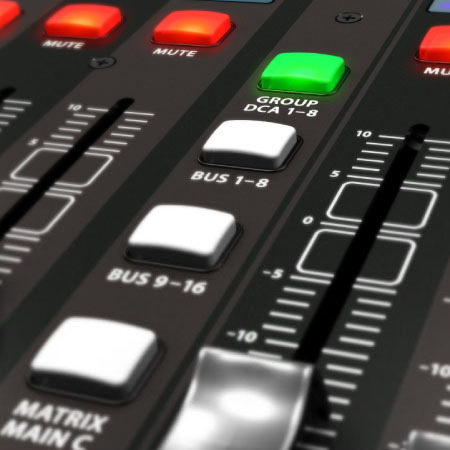 Intuitive. Immediate. Natural.
X32 COMPACT is your mind-to-sound interface… the intersection of creativity and production. Whether you're accustomed to digital mixers or not, the X32 COMPACT's intuitive user interface offers a fluid mixing experience that instantly feels like home.
And then there is the X32 COMPACT's latest version 2.0 firmware. We've added new scene management features and EQ functions, including a 100-band Real Time Analyzer, flexible library import/export capability and faster FX editing.
We also included 16 new FX "Plug-Ins" which are based on True Physical Modeling of famous classic audio hardware. This process means that we essentially "rebuilt" classic analog gear in the digital domain.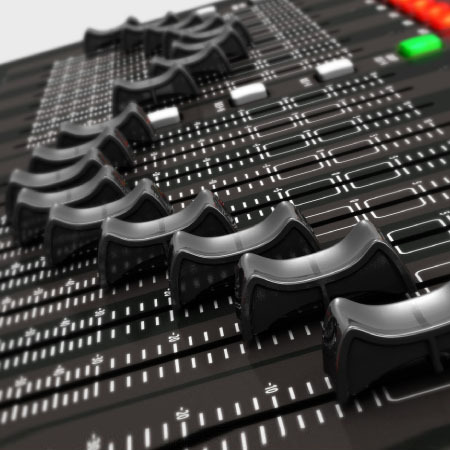 Motorized Faders
X32 COMPACT serves the user a full complement of 17 long-throw, 100 mm motorized servo faders for primary mix control. Working in concert with the LCD Scribble Strips and TFT Display, the faders serve multiple functions while always keeping you informed.
Separate fader sections for inputs and groups/buses allow for convenient assignments from inputs to groups/buses.
With the ability to store up to 100 scenes, X32 COMPACT's motorized faders jump to life the moment a scene is recalled.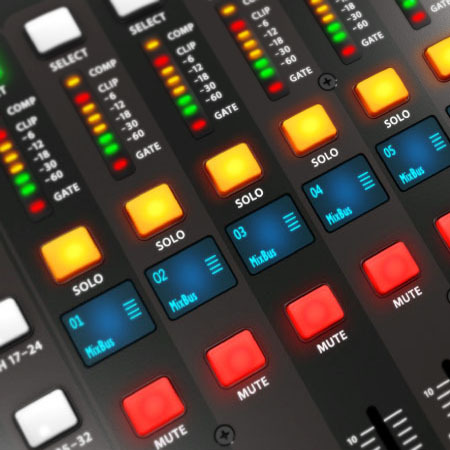 LCD Scribble Strips
X32 COMPACT's automated control surface is designed to present you with the control you need, when you need it.
A total of 17 programmable LCD Scribble Strips offer channel/bus identification that mirrors what is being controlled.
Use them to enter input/output tags, plus add icons you recognize at-a-glance. Then assign colors to create visual groups for immediate, on-the-fly recognition of similar inputs.
Simple, elegant and effective – plus you'll never need masking tape again.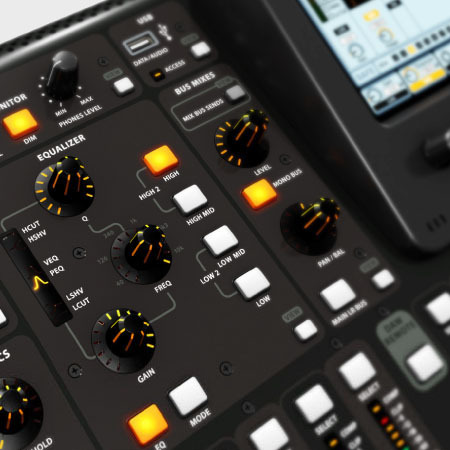 Channel Strip
The X32 COMPACT Channel Strip puts the most important channel processing parameters into one section so that no matter which channel you are working on, the controls are always the same.
This highly-efficient layout stems from Behringer 's decades of console design and input from our users. Optimized control illumination ensures a clear indication of levels or status from any viewing angle.
Illuminated rotary encoders and switches give you control of preamp settings, frequency shelving, dual dynamics sections, as well as multi-mode fully parametric EQ, bus sends, main, mono and stereo panning.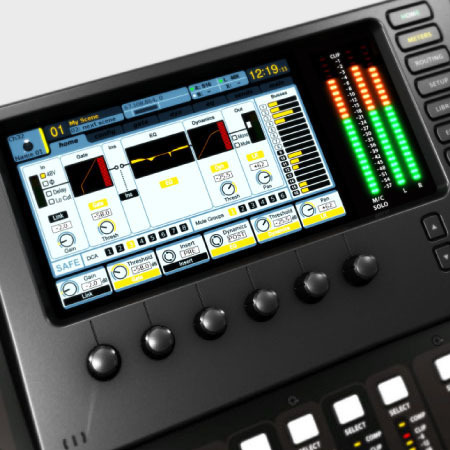 7" Main Display
X32 COMPACT's 7" day-viewable color TFT (Thin-Film Transistor) display shows the setting parameters you need when you need them.
Selected for its high-contrast performance and outdoor visibility, TFT is ideal for concert and open air festival venues. Flanked by high-precision, context-sensitive tactile encoders, the screen comes to life and immediately reports in high definition all adjustments applied to a wide range of parameters.
Intelligent design puts control of vital functions such as Effects, Metering, Routing and much more 1 or 2 button presses away.