香港行貨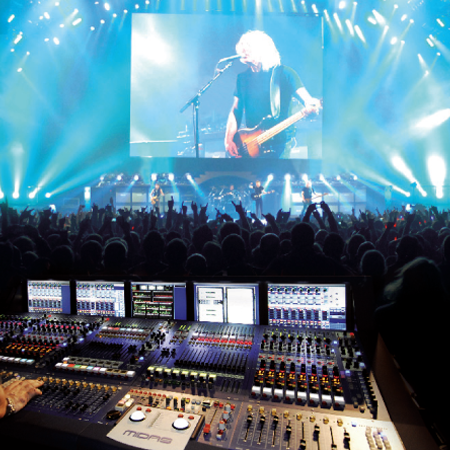 XENYX QX1222USB
The compact XENYX QX1222USB mixer allows you to effortlessly achieve premium-quality sound. Channels 1 - 4 feature our XENYX Mic Preamps, renowned for their pristine performance, plus 2 of the 4 stereo channels accept XLR inputs, as well as Line-Level sources. All mono channels get our ultra-musical "British" 3-band EQs and easy-to-use "one-knob" compressors for the ultimate in punch and clarity. Add to this our KLARK TEKNIK FX processor with 32 studio-grade presets with dual addressable parameters, Tap function and storable user parameter settings – and the QX1222USB becomes an incredibly versatile mixer for your live performances.
But the XENYX QX1222USB isn't just designed to handle your live gigs; they also provide the state-of-the-art tools you need to make stunning, professional-quality recordings. Along with their built-in USB/audio interfaces, the XENYX QX1222USB comes with all the recording and editing software needed to turn your computer system into a complete, high-performance home recording studio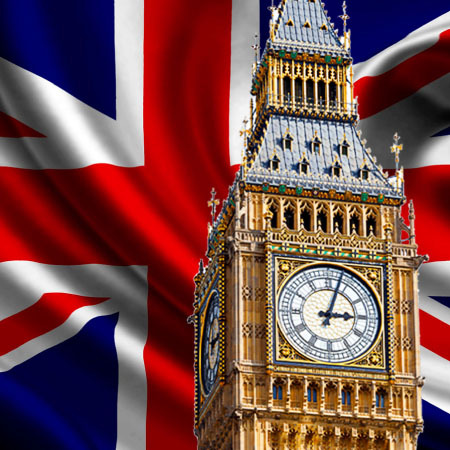 Sonically Superior Mic Preamps
The XENYX QX1222USB gets its name from our legendary, high headroom XENYX mic preamps, which have been praised by audio engineers all over the world. These state-of- the-art mic pres represent a major step in the evolution of audio technology – and they can easily hold their own, even when compared to the most expensive stand-alone mic preamps. XENYX preamps offer a staggering 130 dB of dynamic range, with a bandwidth that extends from below 10 Hz to well above 200 kHz. Armed with these outstanding mic preamps, the XENYX QX1222USB provides such transparent, crystal-clear performance you just might think someone upgraded your mics while you weren't looking.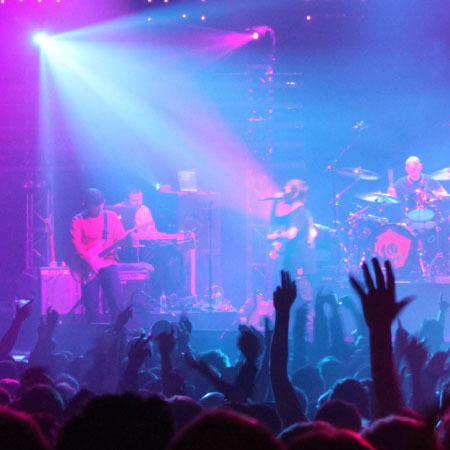 Studio-Quality Compressor -Stairway to Heaven
Our studio-grade compressor is based on classic and famous studio equipment from the 70's. This totally transparent and musical compressor design allows your full dynamic range to shine through until your signal reaches the compression threshold, which is indicated by the highly visible status LED. The compressor increases sustain and gently smoothens out signal peaks, which is especially handy when you're laying down the funk, à la slap and pop – or hammering home your most-aggressive metal lines. The resulting output level lets you unleash powerful and impact-laden bass lines, while still sitting right where you need to be in the mix!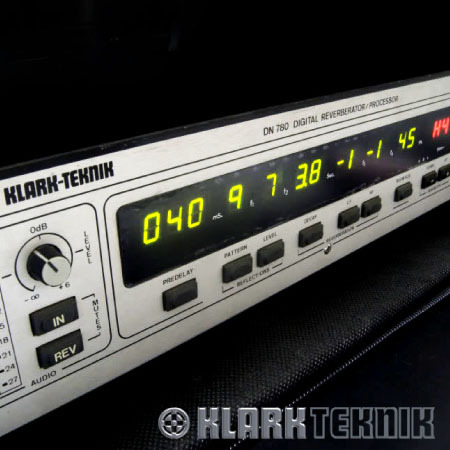 KLARK TEKNIK - The Reverb that Made History
KLARK TEKNIK is recognized worldwide as one of the most prestigious British audio companies, with a 40-year pedigree and even a TEC Lifetime Achievement Award to back it up. The Company has designed and manufactured products for world-class artists, and their legendary DN780 reverb processor is considered by leading audio engineers around the world as the industry standard. Check out their website to learn more about KLARK TEKNIK's legendary heritage.
BEHRINGER is proud to incorporate custom-engineered KLARK TEKNIK effects into their products. Featuring 100 world-class presets to choose from including reverb, chorus, flange, delay, pitch shift and many other amazing effects, KLARK TEKNIK created the 24-bit, studio-grade effects engine for BEHRINGER – to give your performance that truly professional finishing touch.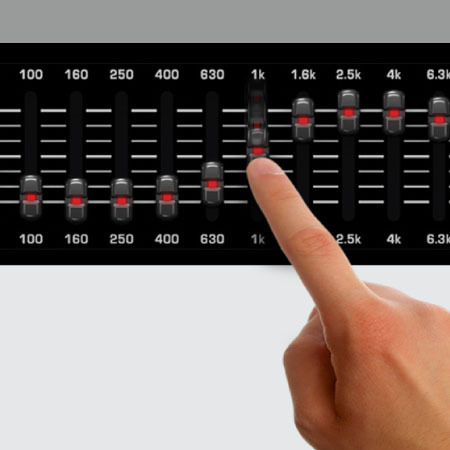 FBQ - Totally Feedback-Free
For more than 20 years, BEHRINGER has designed and manufactured some of the most successful FBQ Feedback Elimination processors. Now you can own and enjoy the benefits of this technology, as we have integrated our revolutionary FBQ Feedback Detection System into this product, so your sound system is completely feedback-free, allowing you to focus on your performance. Utilizing an ultra-fast feedback detection system, this ingenious circuitry helps you recognize and tame feedback frequencies immediately. When feedback is sensed in a specific frequency range, the LED on the associated EQ fader illuminates, showing you at a glance which fader to lower to overcome the feedback. That simple!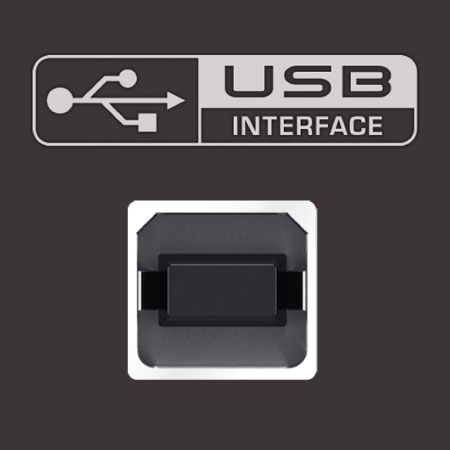 Recording Bliss
There was a time when the recording process called for lots and lots of expensive gear, which meant the average musician had to buy time at a recording studio – and that time was pricey indeed. But modern technology has put personal recording well within the reach of virtually anyone with access to a computer. How do you get all that music flying around your brain into your computer? That's where the XENYX QX1222USB mixer comes in. Thanks to the built-in, bi-directional stereo USB audio interface, you can connect any of these mixers directly to your PC or Mac computer via a single USB cable. Now any signal source you connect to the mixer can be recorded directly to your hard drive. Which brings us to software...
Free Software Would Be Nice!
Because you'll want to take full advantage of the XENYX QX1222USB's recording and podcasting potential, we've included all the software you'll need for audio recording, editing and even podcasting – all free of charge and downloadable from behringer.com. You'll be ready to go live on your PC or Mac right out of the box! We've also provided a free download of more than 150 virtual instruments and FX plug-ins – turning your computer into a powerful home-based or mobile recording studio from input to output.
Premium ultra-low noise, high headroom mixer
4 state-of-the-art, phantom-powered XENYX Mic Preamps comparable to stand-alone boutique preamps
4 studio-grade compressors with super-easy "one-knob" functionality and control LED for professional vocal and instrumental sound
Ultra-high quality Klark Teknik FX processor with LCD display, dual-parameters, Tap function and storable user parameter settings
"Wireless-ready" for high-quality Behringer digital wireless system (not included)
Built-in stereo USB/Audio Interface to connect directly to your computer. Free audio recording, editing and podcasting software plus 150 instrument/effect plug-ins downloadable at behringer.com
Neo-classic "British" 3-band EQs for warm and musical sound
7-band stereo graphic EQ allows precise frequency correction of monitor or main mixes
Revolutionary FBQ Feedback Detection System instantly reveals critical frequencies
Breathtaking XPQ 3D stereo surround effect for more vitality and enhanced stereo image
Voice Canceller function for easy-to-use sing-along applications
4 fully equipped stereo input channels featuring 2 additional mic inputs on channels 5/6 and 7/8, 3-band EQ and input trim control
Channel inserts on each mono channel for flexible connection of outboard equipment
2 aux sends per channel: 1 pre fader for monitoring, 1 post fader (for internal FX and/or as external send); 2 multi-functional stereo aux returns
Balanced main mix outputs with gold-plated XLR connectors, headphone/control room output and stereo rec outputs
Long-wearing 60-mm logarithmic-taper faders and sealed rotary controls
"Planet Earth" switching power supply for maximum flexibility (100 - 240 V~), noise-free audio, superior transient response plus low power consumption for energy saving