優惠期間:連所有支架+ HI-HAT 架 及 腳踏 +鼓椅
旺角門市琴行~ 開業十年, WHATSAPP:5597-7665
Space-saving V-Drums Acoustic Design kit with shallow-depth wood shells and upgraded double-braced chrome stands
Updated TD-17 sound module with new kits, expanded effects, compression/reverb sections, and rich, dynamic, and natural drum sounds
12-inch PDA120LS-BK snare, two 10-inch PDA100L-BK rack toms, 12-inch PDA120L-BK rack tom, and 18-inch KD-180L-BK kick with custom chrome hardware and black wraps
12-inch VH-10 V-Hi-Hat with natural motion and open/closed detection
Two 12-inch CY-12C-T crash cymbals and one 14-inch CY-14R-T ride cymbal with thin profiles for natural feel and realistic movement
Hands-on interface for selecting and personalizing drum sounds
Onboard Bluetooth® for drumming with music from a smartphone or laptop
Built-in practice functions for developing drumming skills
Expand your range with sounds, samples, and other creative content at Roland Cloud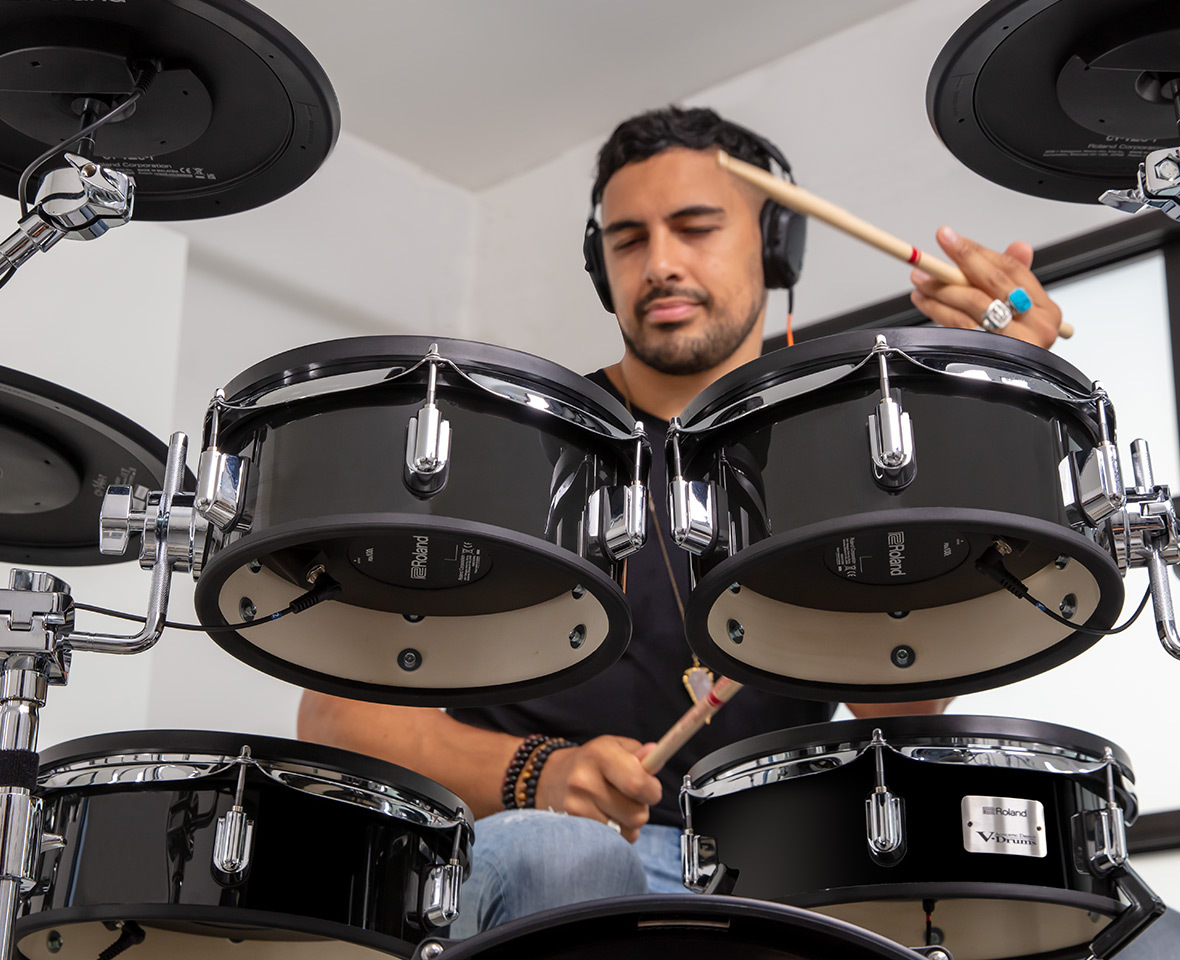 Powerful Sound and Realistic Expression
At the heart of the VAD307 is the TD-17 module. It features a vast collection of vintage and modern drums, cymbals, and percussion, all sampled in ultra-high audio detail with every possible velocity and head strike captured. Roland's unique Prismatic Sound Modeling is married with these samples to deliver complex, true-to-life tonal range and smooth dynamic transitions between hits. The result is an experience that doesn't just sound faithfully acoustic—it behaves acoustically too.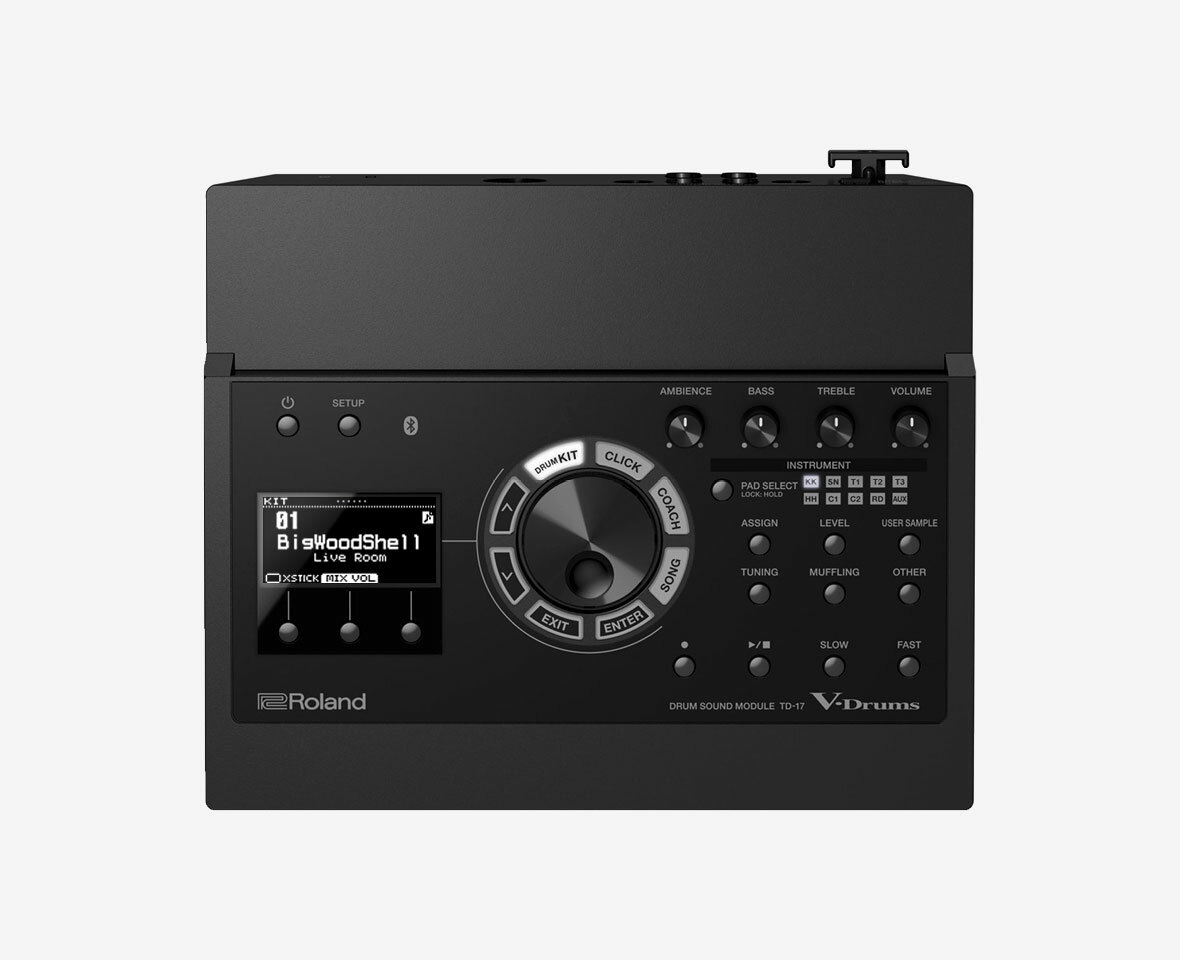 TD-17 Sound Module: Updated and Enhanced
With the latest update, the TD-17 module is more powerful than ever. Choose from 70 versatile preset kits developed by pro drummers, including 10 all-new kits and 26 pre-loaded samples that you can use in your custom kits. Reverb and Kit Comp effects have also been added, along with 11 more MFX types for shaping drum tones. And with integrated support for Roland Cloud content, you can expand your playing experience with a growing selection of sounds, samples, and custom kits from top V- Drums artists.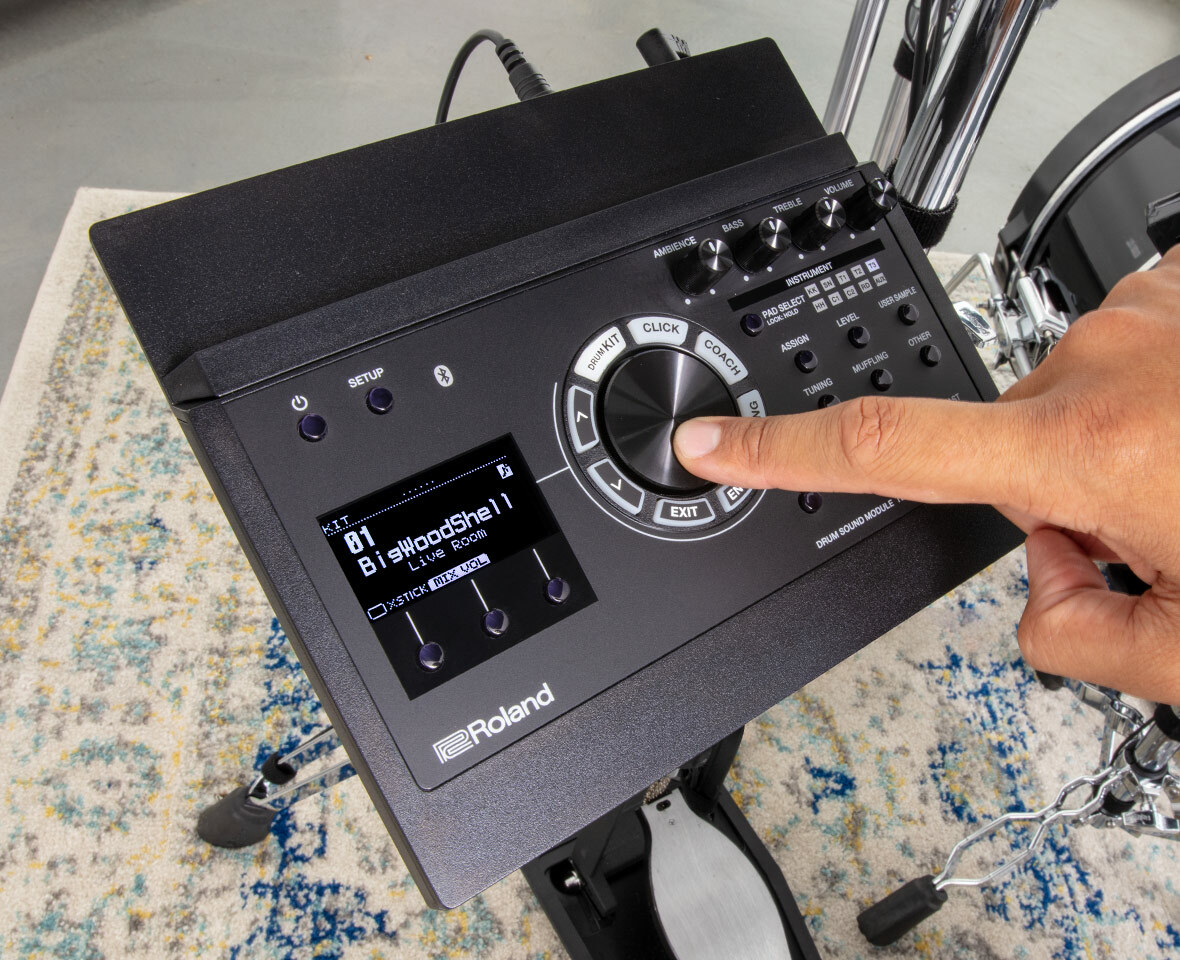 Create (and Craft) Your Signature Drum Kit
The VAD307's preset kits come ready to play, but it's easy to dive deeper and build your ultimate drum setup. Think of the module as a huge warehouse of drums and cymbals from different eras, which you can mix and match in any combination. After that , swap the heads, change the tuning, add muffling, and even change the virtual space you're playing in. Take things even further by loading your own samples and combining them with onboard instruments, crafting personalized kits that no other drummer can claim.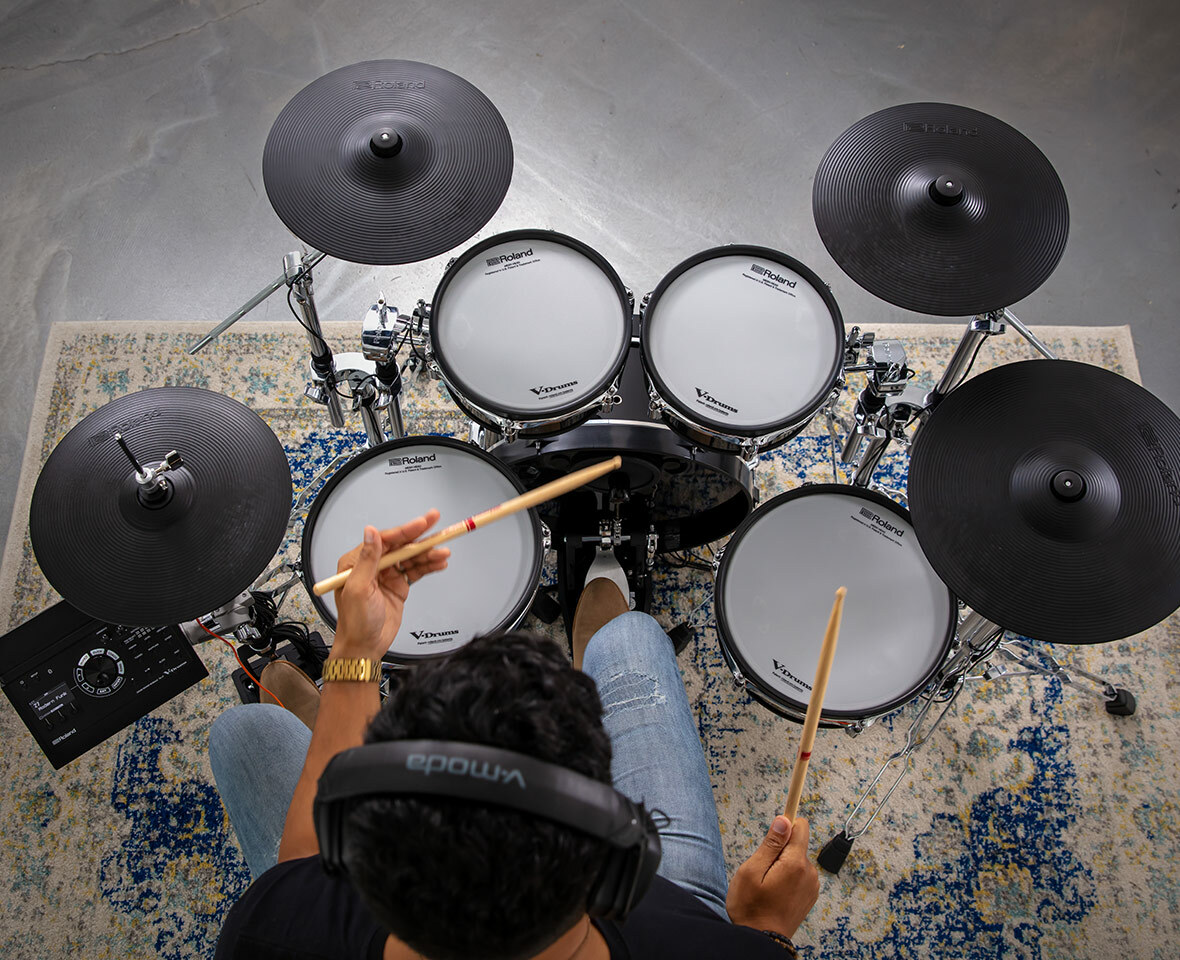 Larger Pads and a Wider Playing Spread
Acoustic drums are usually bigger than electronic drum pads. The size of each drum adds to the overall experience, not just visually but also in stick feel and physical layout. The VAD307 features a 12-inch snare and floor tom, two 10-inch rack toms, and an 18-inch kick to create a naturally wide spread for maximum playing comfort. The shells are made of wood too, enhancing the authentic acoustic feel under the sticks and beater.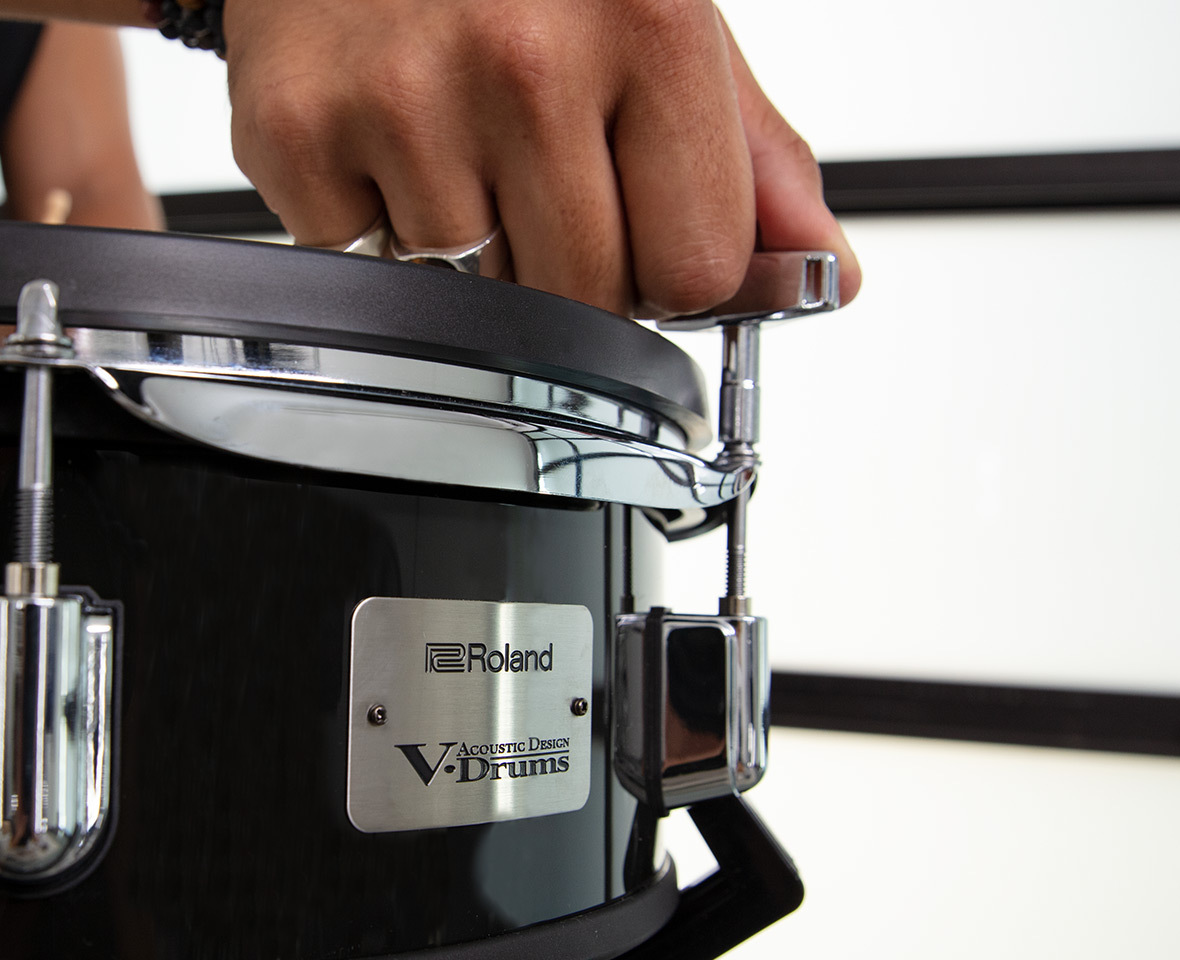 The Natural Feel of Acoustic Drums
Roland's legendary multi-ply, tension-adjustable mesh heads contribute significantly to the authentic playing feel, giving you stick rebound that's customizable for your playing style. And when you bury the beater into the specially designed kick drum, you physically move air inside the shell , creating air pressure and resistance that feels remarkably like playing an acoustic kick.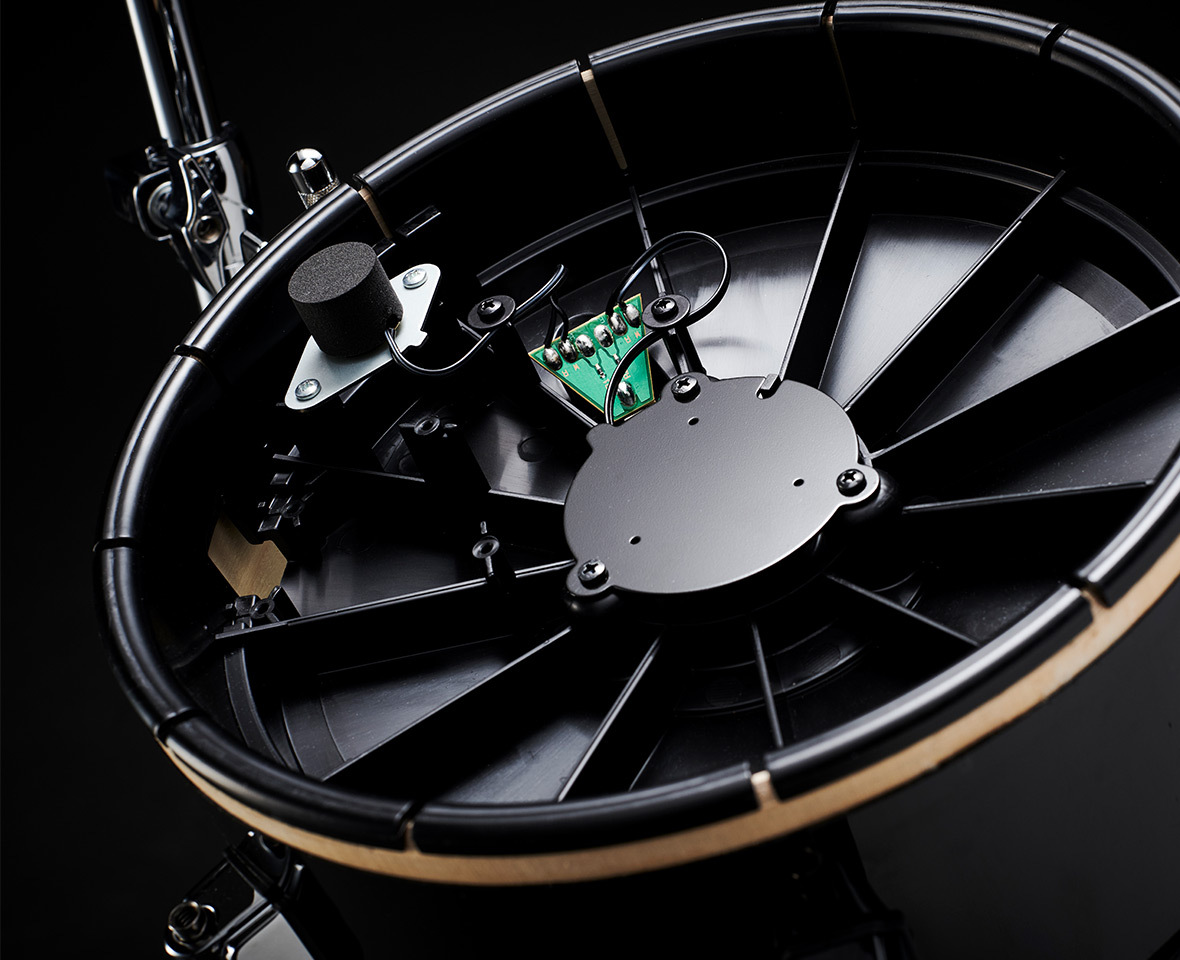 Shallow Shells, Deeper Performance
While the shallow-depth tom and kick shells in the VAD307 kit save space and weight, they don't scimp on performance. Each drum features custom sensors engineered to provide natural response and premium feel in an amazingly compact size.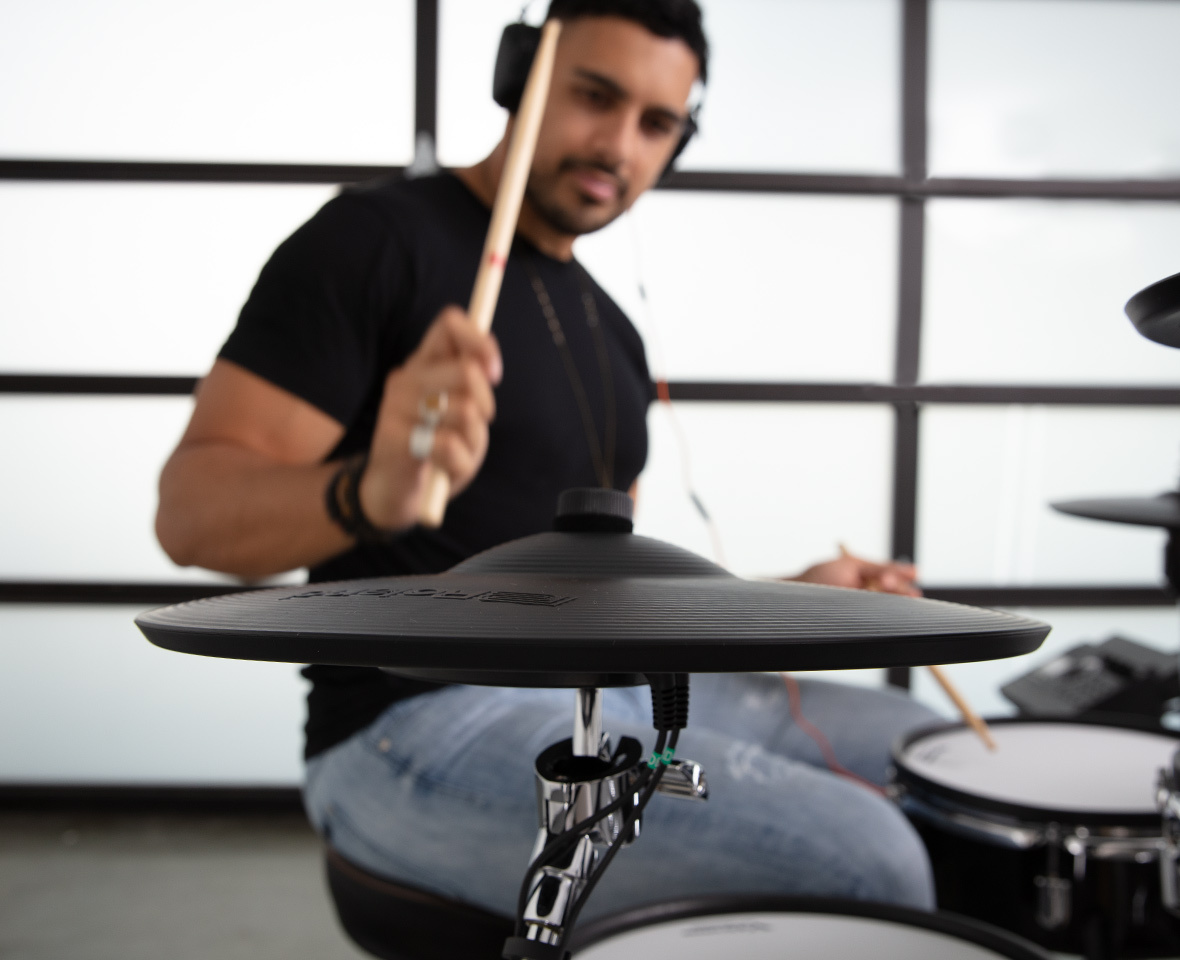 Slimmer, Low-Profile Cymbals
The VAD307 features cymbals with much thinner profiles than previous generations, offering more natural movement and improved stick feel. And each cymbal can be choked simply by grabbing the edge—just like a real acoustic cymbal. The 14-inch CY-14R-T ride cymbal even includes three-way triggering with independent sounds for the edge, bow, and bell.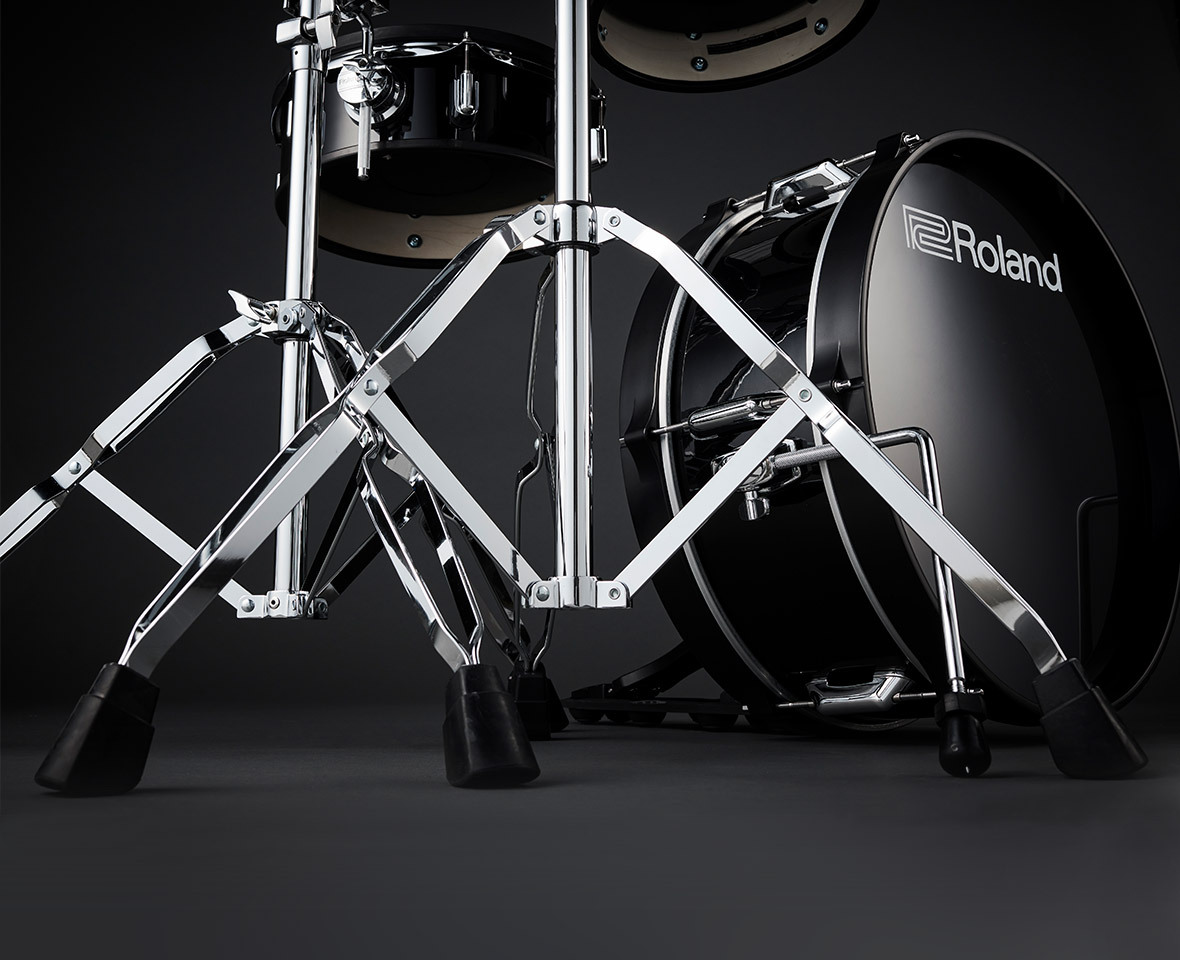 Double-Braced Chrome Drum Stands
The way acoustic drums and cymbals are mounted not only projects a classic image—it also influences the playing feel. The tom pads mount on the same stands used for acoustic toms, so they feel just right when they're hit. And every stand is double braced for rock-solid stability and easily adjusted to suit your preferred layout.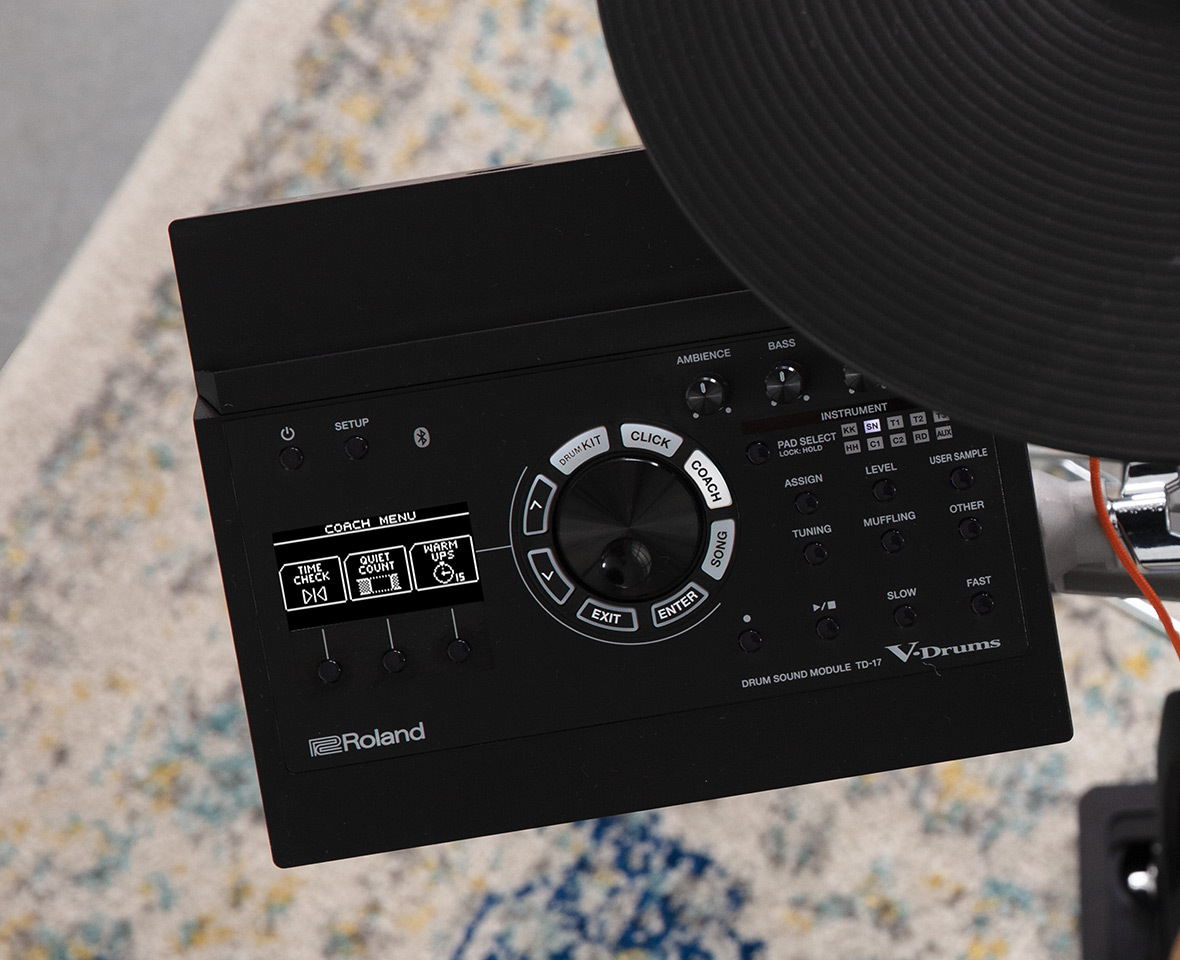 Your Personal Onboard Drum Coach
Coach mode supports your daily practice sessions, complete with progress tracking that makes learning effective and rewarding. Play through warm-ups, develop your sense of groove, tempo, and timing, and even work on your stamina—all with a score that highlights your progress and motivates you to improve.