香港行貨 
Super-Saturated Tape Echo Pedal with Mod Switch, Delay, Sustain and Volume Controls
Responsive pedal faithfully reproduces every saturated nuance of a tape echo machine
3-knob interface allows intuitive control of delay time, sustain and volume
Mod switch lets you convert your signal to warm tape echo sounds
True bypass for ultimate signal integrity
"Built-like-a-tank" metal chassis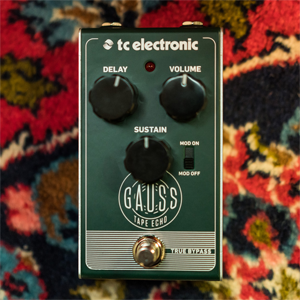 GAUSS TAPE ECHO
Few delay effects are more revered, or iconic, than the tape echo machines of yesteryear. Their warm, fat tones have become the stuff of legends, but they can be hard to find, are pretty temperamental and typically expensive – that is until now. GAUSS TAPE ECHO is a vintage style echo pedal that realistically emulates the sound of those legendary tape echo machines, plays well with others, and is ultra-affordable!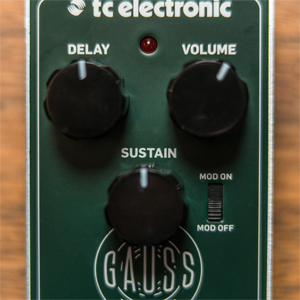 Echoes of Yesteryear
GAUSS TAPE ECHO features a highly responsive and easy to use 3-knob interface with control over delay Time, Sustain and Volume. Our custom-designed, cutting-edge tape algorithm lets you create powerful subsonic pitch dives and self-oscillating spirals of psychedelia by simply manipulating the knobs in real time. An onboard Mod-switch lets you go clean, or add subtly natural and warm modulation to your echoes.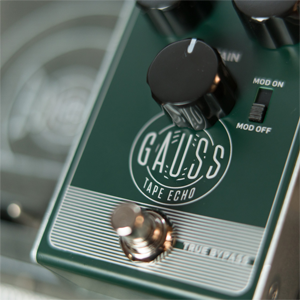 Vintage Tone, Modern Tech
Just as any good delay pedal, GAUSS TAPE ECHO gives your tone a sense of space and substance, by stretching it out a little bit, or a lot! It also fattens up the sound by adding a distinct sense of "more". But it also gives you the sought-after timbre of the original tape echo machines complete with wow and flutter effects, and authentic bass drop-off on the repeats. GAUSS TAPE ECHO easily recreates any style echo, from the warm and organic tape delay of your favorite rock classics, to old-school '50s rockabilly slap-back.
Made to Last
Unlike the original tape machines, GAUSS TAPE ECHO is small and easy to transport. Its top mounted jacks make right at home on any pedal board, while the sturdy metal frame will stand up to obscene amounts of stage and road abuse. Also unlike the original designs, GAUSS TAPE ECHO features true bypass circuitry to keep your signal clear and bright – no matter what you throw at it!